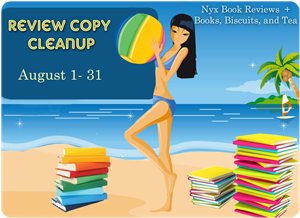 So, today is the start of #RCCleanup and it is until August 31st.
If you're interested in it you can still sign up until August 15th. Just go and click the button above and sign up! :]
So, I have quite a few books that I need to read this month. I'm really pushing myself this month but I have to get these done this month because school starts and a lot of these are for blog tours! But I think I can do it because I'm also participating in a few read-a-thons. So, the month of August will be my reading month! haha.
Here are my goals:
1. Glitch
2. Whispers in Autumn
3. Blood Jewel
4. Dissolve
5. Breaking Lauren
6. Dancing with Death
7. Desert Rice
8. Last Wish of the Summer
And I think there might be others. Anyways, I definitely NEED to get those read this month!
What's your cleanup?
xo Stephanie