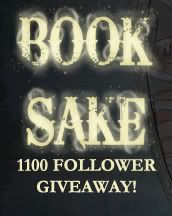 From BookSake:
Huge 1100 Follower Giveaway!!
It's time for our big follower giveaway. Thanks to all of you we've hit 1100 followers. To show our undying appreciation for you we are giving away a ton of books. This time around we have an author helping us out. The fabulous Julie Anne Peters is donating a bunch of books that you all are going to love! Seriously, a bunch. We are going to have
15 winners
(minimum) for this contest!
You must be a follower to enter, so if you aren't already you can
click here to FOLLOW
. You can get a lot of extra entries by following us and Julie on Twitter and Facebook, Tweeting about the contest, making a post about it on your blog if you have one, or putting our button on your blog.
On to the prizes! Author Julie Anne Peters has offered up this wonderful set of books. Not just one set of books, but 10 sets!!!
10 winner's will get their own set of 5 titles from Julie!
I know, amazing right!
Pretend You Love Me
Luna
She Loves You, She Loves You Not...
Rage: A Love Story
By The Time You Read This, I'll Be Dead
5 more winners will have their choice of 1 of the books below.

Can you win a set of Julie's books and a book from us too? Sure, why not?!?!?

This contest is open Internationally to show some love to all of our followers.